---
MEET SOME OF OUR ORGANIC AMBROSIA APPLE GROWERS IN BRITISH COLUMBIA –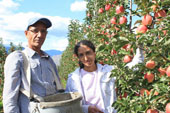 Baljit and Kawaljit Bhathal
Meet the Bhathral's: Baljit and Kawaljit Bhathal both come from generations of farming families in India.
Baljit's family immigrated to Canada in 1992. They were sponsored by his sister who lives in Cawston, BC. Baljit and his family worked with Brian Mennell and Linda Edwards and learned about organic farming through their guidance. He worked with them for more than 13 years…
To meet some other Organic Ambrosia Apple growers – CLICK HERE
---
How The Apple Of Your Eye Can Benefit From Ambrosias
Article by Julie Daniluk
When it comes to building happy, healthy children, having a diet rich in fresh fruit and vegetables is vital. A few years a go I was lucky enough to discover my favourite variety of apple and I think it makes the perfect fruit for kids lunches. The organic Ambrosia apple is a sweet, low-acid fruit with a distinct honeyed aroma. Kids just love them!
Organic Ambrosia apples are grown without the use of synthetic pesticides and fertilizers, and you can be rest assured that they are free from any genetically modified organisms (GMOs), growth hormones, and artificial colours and preservatives. When it…
< READ MORE >